New Acoustic Music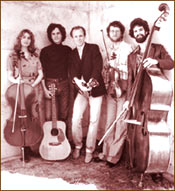 The Tim Ware Group was formed in 1978 when Tim Ware and Bob Alekno ran into each other at Peets Coffee in Berkeley, California. After an enthusiastic conversation about music, the universe and everything, Bob and Tim agreed to put hands to strings and get something going.

The next to come on board was John Tenney, a local violinist of some repute, whose head was bracketed with incredible ears. John then brought in 'cellist Sharon O'Connor (with whom he played in the San Francisco String Quartet) and bassist Ken Miller, who was (and is) proficient at both jazz and classical music. Together they set out to render Tim's arrangements ready for prime time.

After Tim played a rehearsal tape for his buddy David Grisman, Grisman turned to him and asked "How much of this shit do you have?" Tim answered "five!" So, Grisman had a little talk with Jeff Alexson and Tom Diamont at Kaleidoscope Records, they had a talk with Tim, and all decided to make a record. For "Spiral Moons," which Tim wrote for mandolin quartet (2 mandolins, mandola & mandocello), Tim enlisted Grisman and two of his fellow David Grisman Quartet members at the time, violinist Darol Anger and string virtuoso Mike Marshall. The Washington Post, in its glowing review of the album, said the track evoked "the warp and woof of a finely woven Oriental carpet."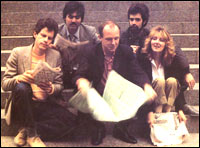 In 1981, Tim met violinist David Balakrishnan, and the two hit it off immediately, sharing a vision of music which would sustain them for the next few years. In 1983, after the stunning critical success (and less-than-stunning commercial success) of the first album, Tim convinced Rounder Records to fund and release a second album. "Shelter From The Norm," with David Balakrishnan replacing John Tenney on violin, was released in 1983. Once again, the critics thought it was pretty cool stuff, but radio wouldn't/couldn't touch it. The band hung up their strings in 1984.
In 1985, Tim formed Tim Ware Group v2.0.
In 1995, co-founder Bob Alekno was killed in an automobile accident in Nashville, Tennessee. Bob was a dear friend and a great human being, and is greatly missed by all who knew and loved him.
Dave, with violinist Darol Anger, formed the Turtle Island String Quartet, of which he is still a member. John is still a very active musician in the San Francisco Bay Area, and, as a studio guy, has played on a great many albums, including "Skylarking" by XTC. Sharon is also active as a Bay Area musician as well as the author of a quite successful series of cookbooks entitled "Menus & Music." Ken still plays music in the Bay Area.
After getting married in 1988, Tim returned to college to get a degree in composition. After graduating in 1992, he got interested in Chaos Theory, which led (don't ask) to an interest in the fiction of Thomas Pynchon, which (when the WWW came into being) led to his building a very large website exploring Pynchon's works, which resulted in his having a pretty fun and profitable career in Web development. His business is called HyperArts Web Design, and he worked closely with the late great graphic designer Michael Cronan, who designed the TWG's second album.